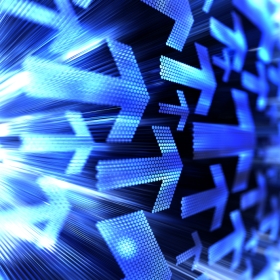 Financial
A Better OCR and Data Conversion Solution
The Payment Challenge
80% of all A/P handling is still paper-based, meaning it is manually intensive and expensive to manage. The reason so much of this work is manual is that in most payment workflows, vendors and forms change constantly. That can make processing payments, which involves capturing data from invoices, bills of lading and other semi-structured, varying forms, difficult to manage. With standard static template solutions, keeping up with form changes and handling exceptions interrupts processing and requires extensive manual intervention, which increases cycle time, headcount and cost.
KYOS TransFORM™: Fully Automated,
99.9+% Accurate
KYOS TransFORM™ handles all document data processing automatically, even when forms change. We achieve 99.9+% accuracy automatically identifying page images with no human intervention. We thus eliminate sorting, barcoding, separator sheets and many other typical labor intensive pre-scan activities. KYOS TransFORM™ identifies all of the data you want from documents and forms and prepares it to be uploaded into your ERP system. Our robust workflow and recognition engines coupled with our expert staff can be your back office conversion service to make data from your documents fully computable.
Information as an Asset for Better Business Results
Other benefits of KYOS TransFORM™ include:
Streamlined audits.
By capturing and linking back every piece of data to its original location on the page image, KYOS TransFORM™ makes all transactions 100% transparent and ensures that you are audit-ready at any time.
Mine existing financial records.
If your financial information has already been digitized or microfilmed, KYOS TransFORM™ can process film and page images to locate, retrieve and validate transaction data for historical and forensic auditing.
Automation, accelerated throughput, portability into other applications, and full access to data mean you can process payments faster and manage your business better. We can put together the technology and services solution that drives critical data into your A/P and ERP applications.
For more information on what KYOS can do for you, click here.
Track Portfolio Performance from Paper Files with Zero Data Entry
A KYOS Systems client was processing a high volume of mortgages. Scanning and data entry were taking so long that the client built up a long processing backlog and had no way to monitor a large and growing portfolio. KYOS TransFORM™'s automated document capture and filing quickly cleared the backlog and, with minimal manual effort for the client, our system converted a high volume of incoming paper files into a mineable database. Now, with the KYOS-designed system, users can view mortgage activity by location, loan size, lender or any other parameter. With virtually no training and simple point and click searches, the user can mine and aggregate all information for up-to-date portfolio monitoring while dramatically speeding up search and retrieval.